ANALYSIS OF THE COMMUNITY COLLECTIVE PERCEPTIONS OF HOSPITAL EMPLOYEES BEFORE AND AFTER COVID-19 PANDEMIC

Abstract views: 84 /

PDF downloads: 77
Keywords:
Covid-19, Collective Competence, Hospital Staff
Abstract
Self-efficacy beliefs of people; It determines how they think, feel, behave and motivate themselves. Self-efficacy is expressed as the individual's perception of himself, and social competence, of the group's capacity to do a certain job. In this study, the effects of the Covid-19 pandemic on collectivistic competence perceptions were examined. In the study, "Collectivism Competence Scale" and a demographic form with 7 questions prepared by the researcher were used as data collection tools. In this context, the changes in the collectivistic competence perceptions of healthcare workers before and after Covid-19 were examined in this study. The sample of the study is 209 healthcare workers working in a private hospital. While analyzing the obtained data, descriptive statistics, correlation and difference analysis were examined. The analysis of the data was done with the SPSS 23 program. A statistically significant and moderately strong correlation was found between the pre-test and post-test scores of the Collective Competence Scale Total score to the results. It was determined that the post-test scores of the Collective Competence Scale and the sub-dimensions "Determination and Resilience", "Unity and Solidarity" and "Common Consciousness" were lower than the pre-test scores. Based on this, we can conclude that Covid-19 negatively affects healthcare professionals.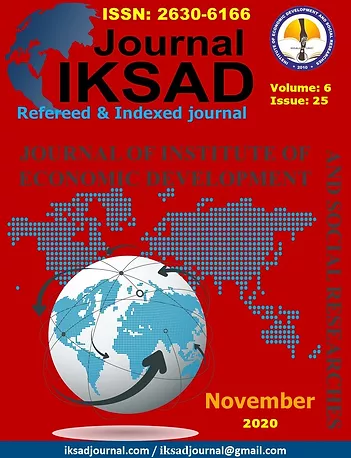 Downloads
How to Cite
GÖKÇE, H., ORHAN, S., DEMİR, H., AYDIN, O. A., GÜMÜŞ, M., & KIZILKAYA, E. (2020). ANALYSIS OF THE COMMUNITY COLLECTIVE PERCEPTIONS OF HOSPITAL EMPLOYEES BEFORE AND AFTER COVID-19 PANDEMIC. IKSAD JOURNAL, 6(25), 718–731. https://doi.org/10.31623/iksad062506
License
This work is licensed under a Creative Commons Attribution-NonCommercial 4.0 International License.