ACCORDING TO OTTOMAN PROVINCIAL YEARBOOKS OSMANCIK

Abstract views: 54 /

PDF downloads: 36
Keywords:
Ottoman, Osmancık, Salname
Abstract
The declaration of Tanzimat in the Ottoman state in terms of politics and administration is an important turning point. In addition to many improvements and innovations, it is a process in which the yearbooks, which include the summarization of the state officially, in a year, from agriculture, industry, economic, administrative, production, in a year. It is a term used for works published every year as a salname or an annual word meaning on certain topics. In these works, it is possible to summarize all the developments of the province to which it belongs. Although it is important for us to write the yearbooks at the time of the events and to print these works, we can also see the city as a memory book of that period. In addition to the historical information it gives about the region it belongs to, it should be stated that they are very important for 19th and 20th century urban history writing when we evaluate them in terms of all the information it contains. Over time, the yearbooks have been enriched in terms of content and works with many pages have been created. In order to conduct a study on the geography that constitutes the administrative division of the province of Çorum, it is necessary to examine different regions in the Ottoman period documents. Some of the accidents that we encounter today in Çorum province are seen as accidents, villages or subdistricts. It was connected to the Osmancık Amasya Sanjak in the 1870s. As we have stated, information about Çorum and its accidents, which we have seen in different administrative centers over time, are found in the provincial yearbooks of Sivas, Kastamonu and Ankara. Although studies have been carried out on different dates on the subject, we will try to compile the information included in the yearbooks in Osmancık. It will be our aim to shape our work after a direct examination from the original source. In our study, we will try to compile the issues such as administrative structure, population, education and economy in the yearbooks from the 1870s to 1907 regarding the Osmancık accident, which we see in Sivas province.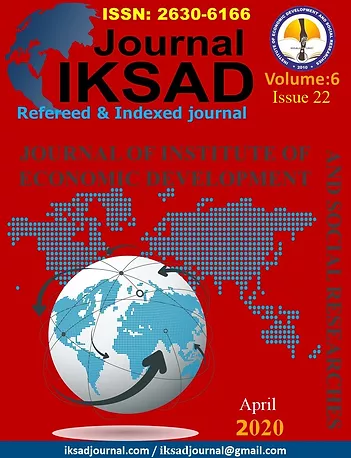 Downloads
How to Cite
KARA, A. (2022). ACCORDING TO OTTOMAN PROVINCIAL YEARBOOKS OSMANCIK. IKSAD JOURNAL, 6(22), 59–64. Retrieved from https://www.iksadjournal.com/index.php/iksad/article/view/139
License
This work is licensed under a Creative Commons Attribution-NonCommercial 4.0 International License.